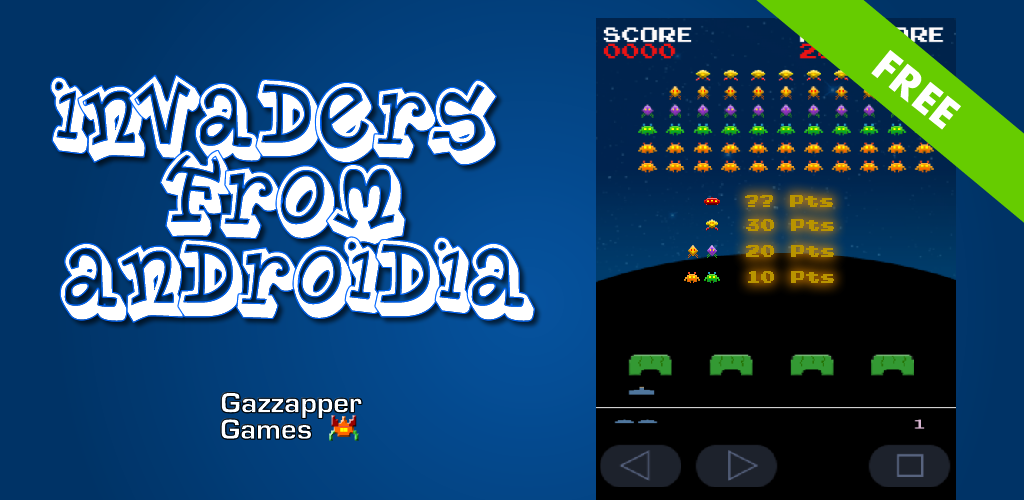 Alien Invaders from Androidia have reached your outer moon…You must defeat the oncoming space invaders before they infiltrate your base. Use your base for shielding from the enemy missiles.
Destroy the Mystery Ship for bonus points. This version is limited to 1 life per game but you can play as much as you like. If you enjoy it buy the Full Version.
Fluid Gameplay, fun and challenging for kids and adults alike
Inspired by retro classic games like Space Invaders.
Please Rate if you enjoy it!
Features:
★ Easy to play, Hard to master
★ No Adverts or Inapp purchases!
★ Fast smooth action on phone or tablet
★ Includes Destructible shield bases
★ Great sound effects!
★ Retro arcade feel
★ Global Scoreboard (to get on it score over 3000+ points)
★ 3 Control modes (Buttons or 1 Finger Drag or 2 Finger Drag)
★ Score bonuses for shooting Mystery Ship
★ Great – Optional CRT scanlines!! (New Version)
★ Responsive controls
★ Multi-touch with fire button on top right of screen